Native American Tea: A Unique Gift
---
Native American Tea Company's teas, wooden tea chests, and tea samplers make wonderful unique gifts. Our teas are healthy, interesting concoctions that everyone in the family can enjoy. While we are featured at countless gift shops and other retail type stores throughout the country and worldwide, our blends can be purchased right here at NativeAmericanTea.com.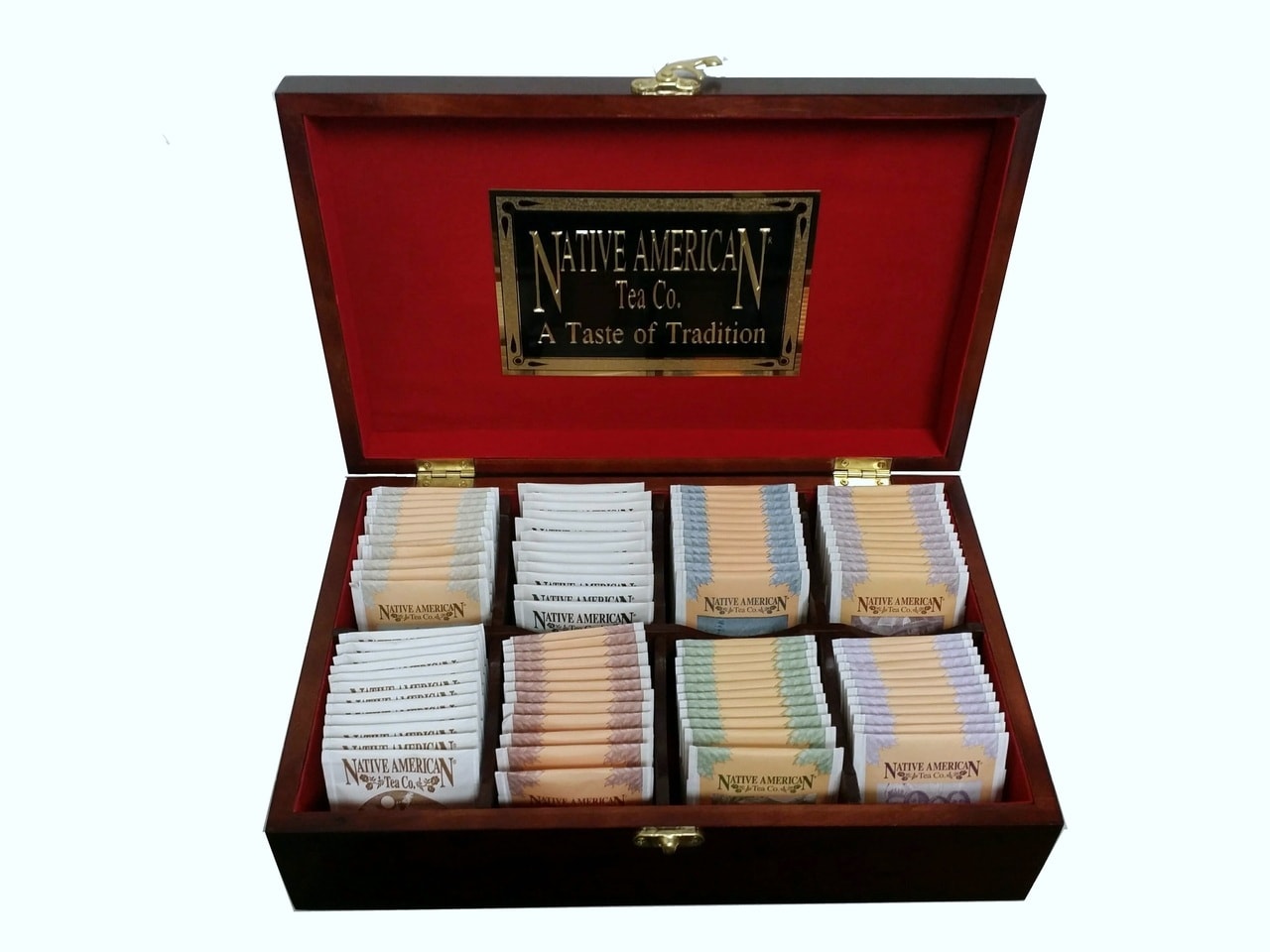 ---
Are you looking to replace your coffee with a more nutritious alternative but don't think you can survive without your morning shot of caffeine? Try our Warrior's Brew blend. It is a black tea combined with herbs. This herbal infusion gives you caffeine from the black tea along with star anise which serves to even out your energy. If your coffee is causing you to be on energy rollercoaster try this blend. Perfect for the individual looking to start their day right.
"Wonderfully rich taste! Energy is in short supply for me for sometime now...and I've been found to be low in Vitamin D...this gives me just the right pick me up with the added bonus of C & D! I love it!"
-Geri
---
Our spearmint blend Good Medicine is a very popular blend in the winter time. Between the eucalyptus and spearmint this blends helps to open up breathing channels. By far our most popular blend during when it gets cold outside.
"I have enjoyed this tea! Thank you so much! Have been referring others to purchase your products. Very Happy with order! Thank you so much! Blessings to you and your family! :)"
-Debbie
---
Need something to calm you down at night? Teepee Dreams is our most popular blend for a reason. This chamomile tea is combined with valerian root, catnip, and peppermint to calm down your day and let your mind slow down. Teepee Dreams is a unique gift for those busy moms and dads who always have something on their mind.
"Teepee dreams helped me fall asleep better than any other over the counter pills or liquids. I suffer from severe insomnia due to menopause and I was able to have a restful night sleep that included rem/ dreams. I have not had that in a long time..Thank you for sharing."
-Victoria
---
Victory Tea is a wonderful blend of wild cherry bark, rosehips, hibiscus- made for those individuals that who are looking for energy without caffeine. This tea blend has a punch like flavor to it making it perfect for iced tea during a hot summer day.
"This is my second order of Victory Tea so I obviously find it very flavorful and relaxing, especially during winter in Iowa. Nothing like sitting and enjoying a smooth hot tea while watching the snow fall. Shipping was fast as advertised."
-Sandi
---
Share it with someone you love- that is our Indian Love Tea. Damiana and muira puama are added to ginseng, Missouri snake root, and many other herbs. Due to restrictions in the state of Louisiana, unfortunately we cannot ship it there. However the rest of the United States can enjoy this warming blend that could potentially help with circulation.
"I am a tea lover, and this is my favorite tea. I have been ordering it for years, having tried it at an Indian Restaurant in Sante Fe, NM years ago. I usually add some xylitol or honey to most teas, however this one is so good it doesn't need sweetener. If you read about the health benefits of the herbs used in this blend, you will find that there are several reasons why this tea can make you feel so good. It really does seem to promote a feeling of well being!"
-Zoe
---
Finally we have our Chief's Delight. A wonderful naturally caffeine free blend of strawberry, blackberry, and juniper berry leaf. Need a cup of relaxation without making you tired? You've found the right blend. A great way to calm the mind before meditation.
"I just love Chief's Delight tea. My doctor has forbidden caffeine and even discouraged the decaffeinated. I can drink Chief's Delight and not worry a bit about the caffeine level. I've learned that there is a big difference between decaffeinated and caffeine free. Thank you for offering such a wonderful tasting and healthy tea."
-Charlotte
---
While our target audience was initially gift shops, museums, natural historic sites and parks, we have grown and expanded into natural food coops and grocery stores through our distributors and direct sales. Now not only can these businesses purchase our wonderful blends of tea but these gift shop items are available to everyone. For a great gift this holiday season try our Native American Wooden Tea Chest!
"Way to go on the tea chest! It looked great online, but even classier in person. I love the nameplate and this is a great way to keep tea from getting too humid. Tea bags were packaged inside. The tea chest was packaged so well that I want to store the chest inside the inner packaging box when I travel. I'm hoping you come up with more Native American treasures to compliment some of the best tea around. This is such an awesome tea chest to hand down to family and just treasure, and it sure beats the awful, broken acrylic tea organizer I had before ;-)."
-Christina
*These statements have not been evaluated by the FDA. These products are not intended to diagnose, treat, prevent or cure any disease. Customers are reminded that it is entirely of their own accord, right and responsibility to make educated choices with their own, and their family's health care. Always consult a physician prior to the use of any herbal product or service.
---